Apple Cinnamon Juice
Fuji Apples - Apples are one of the healthiest foods a person can eat. They are high in fiber and vitamin C, and they are also low in calories. Apples may mitigate the effects of asthma and Alzheimer's disease, while assisting with weight management, bone health, pulmonary function and gastrointestinal protection. In addition to digestion-aiding insoluble fiber, apples have soluble fiber, such as pectin. This nutrient helps prevent cholesterol from building up in the lining of blood vessels, which in turn helps prevent atherosclerosis and heart disease.

Cinnamon - It has been used as an ingredient throughout history, dating back as far as Ancient Egypt. It used to be rare and valuable and was regarded as a gift fit for kings. According to researchers, out of twenty-six of the most popular herbs and medicinal spices in the world, cinnamon actually ranks #1 in terms of its protective antioxidant levels. A little bit of cinnamon goes a long way, and its antioxidant abilities are what makes it especially beneficial to include in your diet. As little as ½ teaspoon of cinnamon daily can have positive effects on blood sugar levels, digestion, immunity and more; however, stronger doses are also extremely beneficial for improving heart disease risk and cutting your risk of diabetes, cancer and neurodegenerative diseases.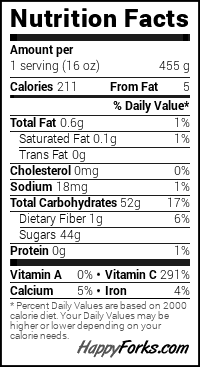 Reviews
Featured Products